Fire and Ice: Table of Contents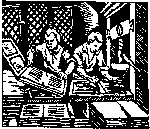 This table of contents contains most of the documents on Fire and Ice. There are separate listings for historical and biographical materials, and for poetry.
This icon

indicates a thumbnail biographical sketch.
---

"Reader, remember this: if thy knowledge do not now affect thy heart, it will at last, with a witness, afflict thy heart; if it do not now endear Christ to thee, it will at last provoke Christ the more against thee; if it do not make all the things of Christ to be very precious in thy eyes, it will at last make thee the more vile in Christ's eyes." Thomas Brooks
---
Alphabetical Listing by Author
Anonymous

A Pastor's Secret Heart An article from the Banner of Truth, about the reality of the Reformed pastorate. Pastors, take a moment and read a letter from a kindred spirit. Church members, read about what it's really like in the ministry. Word PDF Print out a copy and give it to your pastor.


Thomas Adams

Semper Idem: or, The Immutable Mercy of Jesus Christ by Thomas Adams. Adams is a little-known English Puritan. He was an Anglican pastor in London. This is a fine sermon filled with literary allusions, picturesque turns of phrase, and Christ's love. Word format PDF format Palm Doc format MS Reader format Added 18 Sept. 2003.
Directions for a Peaceful Death Some observers of our modern culture say that we are loosing our vocabulary for speaking about death and grief. Baxter gets to the heart of the matter. Recommended for those planning on undergoing the experience.
Directions for Grief on the Death of Friends Baxter answers the hard questions. Helpful.
Directions for Hating Sin by Richard Baxter. Practical, vintage Baxter. &quotExcusing sin, and pleading for and extenuating it, and striving against the Spirit and conscience....are not the means to be cured and sanctified" Read it, do it. Word PDF
The Mutual Duties of Husbands and Wives Towards Each Other by Richard Baxter. Clear, Biblical directions to husbands and wives. They don't call them his "Practical Works" for nothing! Abridged and modernised by Scott Andersen. Also in Word format PDF
The Sin of Man-pleasing Spiritual, pastoral, practical counsel from Baxter's Christian Ethics. A balanced, positive presentation relevant to today's situation.
Signs of Living to Please God The positive side of Baxter's teaching on sin. A practical, spiritual inventory. Extracted from the chapter above.
The Advantages of Pleasing God A short extract from the chapter above.
How to Spend the Day With God How to honour God in all the daily activities of life. Baxter applies all the Bible to all of life. A modern adaptation by Matthew Vogan.
The Sinfulness of Flesh-Pleasing He must have known about our culture today! He not only answers our evasions, but shows us the remedies we need to fight our favourite sin. The three extracts below are taken from this sermon. (53K)
Treason Against the Soul A short extract, in modern English, from his Christian Ethics. Can a person engage in treason against his own soul?
Ten Marks of a Flesh-Pleaser A spiritual inventory. Take a self-test from a the pen of a true Reformed Pastor. In contemporary language.
The Greatest Thing in the World Clear thinking on a topic we don't much care to consider.
Ministers of Love A short extract from "What Light Must Shine in Our Works?," primarily directed to ministers, but applying to all of us. So fresh, it seems to have been written this morning.
Directions Against Sinful D esires and Discontent "Understand how little it will satisfy you, if God should give you all that you earnestly desire. When you have it, it will not quiet you, nor answer your expectations." Contributed by Steve Doan. Word PDF
Cases and Directions For Loving Our Neighbours as Ourselves What is love? Who is my neighbour? What about hating sin? How to obey the command of our Lord. Contributed by Steve Doan. Word PDF
Directions Against Sinful Fear Directions against the sinful fear of God, the Devil, and men. "It is a base, hypocritical, worldly heart that maketh you immoderately afraid of men. Are you afraid lest they should storm and plunder heaven? Or lest they cast you into hell? Or lest they turn God against you? Or lest they bribe or overawe your Judge? No, no! These are none of your fears!" Contributed by Steve Doan. (47K) Word PDF (41K)
Cases and Directions Against Backbiting, Slandering, and Evil Speaking Here is a useful discussion of we never talk about. Er, always talk about. Er, should talk about. Shouldn't. (You know what I mean.) Contributed by Steve Doan. Word PDF
The Cure of Melancholy and Overmuch Sorrow Helpful, practical directions from long before psychology was invented. Includes advice for friends and relatives of the depressed. Contributed by Steve Doan. (108K) Word (48K) PDF (41 pages, 98K)
Cases and Directions Against Censoriousness and Unwarrantable Judging (37K) "Study to keep up Christian love, and to keep it lively. For love is not censorious, but is inclined to judge the best, till evidence constrain you to the contrary. Censoriousness is a vermin which crawleth in the carcass of Christian love, when the life of it is gone." Contributed by Steve Doan. Word PDF (13 pages, 37K)
Special Directions for Christian Conference, Exhortation and Reproof (40K) "I remember myself, that when I was young, I had sometime the company of one ancient godly minister, who was of weaker parts than many others, but yet did profit me more than most; because he would never in prayer or conference speak of God, or the life to come, but with such marvelous seriousness and reverence, as if he had seen the majesty and glory which he talked of." Contributed by Steve Doan. Word PDF (14 pages, 40K)
Directions Against Covetousness (63K) "Oh what deserving servants hath the world, that will serve it so diligently, so constantly, and at so costly a rate, when they beforehand know, that besides a little transitory, deluding pleasure, it will pay them with nothing but everlasting shame!" Contributed by Steve Doan. Word PDF (23 pages, 69K)
Advice on Reading A very short extract. Warning: may cause conviction. Good thing he didn't know about boxes with buttons and keyboards!
Of the Decrees of God "The love between the Father and the Son is holden out as the first pattern of all loves and delights, John 17:23,24. This then flows from the infinite excess of perfection and exundation of self-being, that his majesty is pleased to come without himself, to manifest his own glory in the works of his hands, to decree and appoint other things beside himself, and to execute that decree." "There is nothing wherein I know Christians more deficient than in this point of submission, which I take to be one of the chiefest and sweetest, though hardest duties of a Christian." Word PDF
Of Predestination (I) "That which the learned call Arminianism is nothing else but the carnal reason of men's hearts, which is enmity to God. It is that very disputation which Paul in this chapter exclaims against, 'Who art thou, O man, that disputest?'" Word PDF
Of Predestination (II) "Let the consideration of the absolute right and dominion of God over us, more than any creature hath over another, yea, or over themselves, – let that restrain us, and keep us within bounds. He may do with us what he pleaseth, for his own honour and praise; but it is his will that we should leave all the blame to ourselves, and rather behold the evident cause of our destruction in our sin, which is nearer us, than to search into a secret and incomprehensible cause in God's counsel." Word PDF
The Beauties of Boston
Important Lessons Drawn from the Decrees of God
God Alone Created the World "Such an extravagant fancy can only possess the thoughts of a disordered brain."
How We Ought to Think about God's Providence
Search from the Book of the Lord
Useful Directions For Reading and Searching the Scriptures.
Praying in the Name of Christ
How the Spirit Enables Us to Pray
The Purpose of God's Decrees
The Properties Of God's Decrees Explained
The Nature of that Faith and Obedience which the Scriptures Teach
The Manner of Discovering the True Sense of Holy Scripture

About "The Beauties of Boston" A note about Thomas Boston, how his "Beauties" came to be collected, and a suggestion about their significance for today.
Christ's Name Wonderful His name is particularly precious to sinners, as Boston shows in this abridged sermon. Word
The Legacies of Thomas Brooks From his Farewell Sermon. The sum of practical, experiential Christianity. (21K)
Christ the Life of Believers " Oh, is the Lord Jesus Christ a believer's life? Why, then, let no believer be disquieted, nor overwhelmed and dejected, for any loss or for any sorrow or suffering that he meets with for the Lord Jesus Christ's sake. Oh, what should a man then do for Jesus Christ, who is his life!"
Christ's Love to Poor Sinners "Let us stand still, and admire and wonder at the love of Jesus..." The best of Reformed preaching.
Love the Lord Jesus Christ! Heart-warming, classic Brooks.
An Exhortation to Young Men to Come to Christ Extracts from a moving sermon.(27K) Also Word document PDF.
Quotations from Thomas Brooks Twenty short quotations.

Jeremiah Burroughs

Christ is All in All by Jeremiah Burroughs. An abridgement of a sermon from The Saints' Treasury on Christ, his excellence, and how we should respond to who he is. Short and sweet. Word PDF

John Calvin

Five Sermons from his Sermons on Timothy and Titus. Find out why this book was one of the best sellers of the 16th century. These are PDF Image files from the 1579 edition.
I Have Obtained Mercy From God's Hands (PDF Image File 428K)
If Any Man Desires the Office of a Bishop (PDF Image File 492K)
Take Heed to Thy Self and to Learning (PDF Image File 404K)
Be An Example Unto Them That Believe (PDF Image File 456K)
Despise Not The Gift That Is In Thee (PDF Image File 421K)
Selections from The Existence and Attributes of God:
Discourse On the Power of God (56K) Word PDF (47K)
Discourse On the Eternity of God (31K) Word PDF
Discourse On the Wisdom of God (48K) Word PDF (44K)
A Discourse of Delight in Prayer In 1846 William Symington, the editor of Charnock's Attributes, prepared a small volume of works chosen on the basis of their length. Symington hoped that "perusal of these minor pieces will induce the reader to seek the more elaborate productions of his pen." Read this heart-warming sermon and see for yourself just how "minor" it is! (Charnock was co-pastor with Watson at Crosby Hall.) Also in Word PDF
Why Salvation Must Be Supernatural A short extract from the sermon above.
The Life and Character of Stephen Charnock by William Symington. A valuable look at who Charnock was and his importance for all time. An abridged version of this often appears with editions of the Existence and Attributes of God—here is the original. (55K) Also in Word PDF (49K)
Charnock's Writings A short extract from his Life and Character above. What is it that makes books truly valuable? That gives them a life beyond today's fads and fashions? Symington gives some advice to authors who would have their books last longer than the spring snow.
The Chief Sinners Objects of the Choicest Mercy
A series of three sermons, some of the finest fruits of the Puritan pulpit. Oh to have been among the throng at Crosby Hall to hear them preached! But now you can read them for yourself. Recommended.
The Chief of Sinners Saved (37K) Word PDF 37K
God's Regard for His Own Glory, Seen in the Saving of Sinners (49K) Word
The Fruits of Converting Grace in the Salvation of Sinners (76K) Word (34K)
Download the series as a single PDF file (55 pages 137K)

Thomas Doolittle

What is Love to Christ? A short extract, in modern English, from his book Love to Christ.
Love to Christ Everlasting An extract, in modern English, from the same book.

James Durham

Commentary on the Song of Songs Some time ago I came across a 1723 edition of Durham's Commentary on the Song of Songs, and I fell in love with it immediately. I resolved to put the entire book on Fire and Ice. Great stuff, Christ-honoring, warm-hearted preaching. Wonderful.
For I am Black but Comely The first sermon.

Feed Thy Kids A favorite.

Rise Up My Love, My Fair One Here is some more.

How To Know If You Are A Real Christian A complete sermon in which Edwards sorts out genuine spiritual experience from religious fluff. Very relevant to today's situation. 38K Word PDF format (43K)
The Divine Light A short extract from the above sermon.
Directions for Judging a Person's Experiences A short extract in modern language.
The Wind of the Holy Ghost Blowing upon the Dry Bones in the Valley of Vision Contributed by an anonymous friend. (You know who you are, thanks again!) (75K)
"What is the reason why many professors of religion have lost their wonted vigour in the way of the Lord, and are in such a languishing condition as to their soul-matters? The plain reason of it is this, they are glutting themselves with the pleasures of sense." Word (35K) PDF (26 pages, 63K)
The Believer Exalted in Imputed Righteousness "Is it so, that in a Surety's righteousness believers are exalted? then see hence, that whatever account the world may make of them; as the dross and off-scouring of the earth; yet they are dignified persons in God's reckoning: 'Since thou wast precious in my sight, thou hast been honourable.'" (44K) Word PDF (14 pages, 39K)

The Humble Soul t he Particular Favourite of Heaven A complete sermon on Psalm 138:6, "Though the Lord be high, yet hath he respect unto the lowly." "I think, that a man never passes the verge of moral humility, till self-righteousness be dethroned, till the high and towering imaginations of the man's own righteousness by the law be levelled by the mighty weapons of the gospel, and he brought to submit to the righteousness of God for justification, which is, in the gospel revealed 'from faith to faith.'" (44K) Word PDF (19 pages, 54K)


God's Little Remnant Keeping their Garments Clean in an Evil Day by Ebenezer Erskine. A complete sermon on Revelation 3:4, "They shall walk with me in white; for they are worthy." An excellent sermon for those who would walk with Jesus in white. (76K) Word (35K) PDF (26 pages, 75K)

The Throne of Grace (93K) Word PDF format (95K)

God In Christ, A God Of Love (63K) Word PDF format (65K)
The King Held In The Galleries (57K) Word PDF format (60K)
Unbelief Arraigned And Condemned At The Bar Of God (83K) Word PDF format (83K)
The Necessity And Profitableness Of Good Works Asserted (80K) Word PDF format (82K)
Christ In The Believer's Arms (97K) Word (40K) PDF format (98K)
The Groans Of Believers Under Their Burdens (58K) Word PDF format (59K)
The Backslider Characterized (52K) Word PDF format (56K)
True Lovers of God Highly Privileged "As all the attributes of God, so all the works of God that ever he made, work for his people's good: his great end in making the world, was for the glory of his name and the good of his elect." Preached on a day of thanksgiving, it's a sermon of rich comfort and joy. Word format PDF format Palm doc format MS Reader format
The Best Match; Or, the Incomparable Marriage Between the Creator and the Creature (51K). "This doctrine lets us see that believers are no such lowly and wretched persons as the world generally takes them to be; they are Christ's bride, and he is their husband: and, O what an honour is it to be married to the Son of God! Having him for an husband, they come to be related to all Christ's relations; God is their Father, because he is his Father; angels are their servants, because they are his servants; saints are their fellow-brethren, because they are his members; heaven is their inheritance, because it is the kingdom of their husband. In a word, whatever is his, is theirs; 'And all things are yours, for ye are Christ's, and Christ is God's,' 2 Cor. 3:22,23." Word format (23K) PDF format (52K) Palm Doc format
What Sinners Should Plead with God A plain, clear presentation of the Gospel by a Reformed pastor. Ralph Erskine's writings have been out of print for over a century, see what you've been missing!
Objections Against Receiving Christ Answered Searching, heart-piercing, hot stuff. (31K)
The Difference Between Legal and Gospel Mortification Is resisting sin proof of conversion? Here's the straight scoop.
The Spiritual Feelings of Believers and Hypocrites Compared and Unbelievers' Joy in the Word? Two short extracts from the Beauties of Ralph Erskine. In a day when any and all spiritual feelings are seized upon as evidence of regeneration, here is some sober, sensible advice.
The Right Rule of Our Love to Christ A short extract.
God's Great Name, the Ground and Reason of Saving Great Sinners by Ralph Erskine. You enjoy his poetry, now read a great sermon. Deep theology, deep spirituality, a wealth of Biblical learning, combined with clear, earnest expression. (81K) Word PDF format (65K)
Heaven's Grand Repository by Ralph Erskine. A complete sermon about Christ, glorifying Christ, exalting Christ. Here are grand riches indeed. It's a long sermon, (102K, 33 pages) but well worth reading. Word (40K) PDF format (74K)
What is that Good that All Things Shall Work For? A Beauty of Erskine. (A short extract from a sermon on Romans 8:28.)
Improve God's Name a short "Beauty."
Christ the Desire of All Nations by John Flavel (30K). If you are Christ's, he is everything you desire. Rich, meaty Flavel, a complete sermon filled with his special devotion. In addition, this contains a classic statement of the Puritan view of "seeking." Also available in Word PDF.
Christ Altogether Lovely Flavel was Spurgeon's favourite Puritan. Find out why. (30K) Word PDF
The Wisdom of Patience A complete sermon from Patience and Its Perfect Work, in the original language. Goodwin is a little hard to read, but his warmth and spiritual application is worth the effort. Word PDF format
God the Fountain of Salvation for All His Elect A complete sermon combining Goodwin's theological depth with a tender, gracious heart. This and the following sermon are from his masterful sermon series on Ephesians. (53K) Word PDF format (53K)
The Greatness of God's Love to His Elect Is there any greater subject for a sermon? Or any better preacher to preach it? (67K) Word PDF format (68K)
The Riches of God's Love to his Elect "[Consider] the subject of this love, who it is that loved us. It is God, whose love therefore is as great as himself; and if God will be in love, how deep, how great will that love be! What a love will they possess with whom God professeth himself to be in love! Love, it is of all attributes the most commanding; it commandeth all in a man, and it commandeth all in God." (47K) Word PDF format (57K)
The Glory of the Gospel Two sermons on Col. 1:26-27 which combine his powers of imagination with practical, experiential, Christianity. "Now, in the words I have read to you, the current of [the Apostle's] commendation of the gospel's excellency swells to the highest....therefore I will confine myself, as affording matter enough to set forth the glory of it, and that by all that doth commend to us any knowledge."
Sermon I (54K)
Sermon II (69K)
Word (Both sermons 50K)
PDF (Both sermons 108K)
William Gouge on Covetousness You don't need to read these because you're immune. (NOT!)
Of Rules to Find Out Covetousness This section by Gouge made a difference in my younger years.
Preaching the Word of God A classic statement on preaching by a Puritan preacher. Short, but full of pointed truth.
The Result of Election The response of doctrinally-minded right-thinking Calvinists to Election.
A Generation Unlike Any Other A solemn warning quite applicable to our times.

Christ a Refuge from the Tempest by Edward D. Griffin. A short, evangelistic sermon. Added 7 March 2005. PDF

Enoch Walked With God A valuable sermon on communion with God, prayer, and holiness. Word PDF.
Your Heart His Target The Conqueror is on the march. You are his target. Word PDF.
Salvation Taken into God's Own Hands In whose hands would your rather it be? Word PDF.
Heaven A complete sermon by one of the great preachers of the Second Great Awakening, which builds upon the Scriptural insights of Jonathan Edwards.
When I was a Child I Thought as a Child A complete sermon.
Whom Have I in Heaven but Thee? by Edward Griffin. A complete sermon by one of the great preachers of the Second Great Awakening. Word PDF.
An Exhortation to Serve the Lord A powerful, searching, practical sermon. Not recommended if you are unwilling to examine your Christian life. Word PDF
The Tender Mercies of God "All the pleasures of imagination, of memory, of hope, of sympathy, and of sense; all the magic charms which play on nature's face, are the gifts of his bounteous hand." Classic Griffin. Word PDF

William Gurnall

Quotations from The Christian in Complete Armour About 40 quotes collected by Mark Reynolds.

A. A. Hodge

Assurance and Humility The difference between true and false assurance, in a short extract from one of the Princeton greats.

Charles Hodge

What does it Mean to Adopt the Westminster Confession? A short essay on an important point for ministers, elders, deacons, and candidates for these offices. From his son's commentary on the Confession. Word PDF
But What is it to Eat and Drink Unworthily? A very short extract from his commentary on 1 Corinthians. Very helpful.

John Angell James

Strange Piety (Precisely) A solid dose of common sense.
A True Map of Man's Miserable Estate by Nature An abridgement of a sermon which exalts Christ and shows men as we truly are. Word PDF
A Confession and a Warning a complete sermon not reprinted since the 19th Century.
Take Up the Challenge a practical sermon on sin and holiness.
The Absent Present Christ Words of comfort and encouragement from a great preacher. Also in Word PDF.

A Practical Commentary on the Fifty-Third Chapter of Isaiah Warm and experiential sermons which glorify and honour our Lord Jesus. From the 22 volume set, long out of print. Added 2 February 2005.

Eighteen Sermons on 2 Thessalonians Chapter Two Manton was one of the "majors" of the Puritan world and sermons like these show why. They are on a variety of topics from Christ's Return, the Antichrist, Christian Assurance, and nature of faith.
The Coming of Christ Desired by His People
Be Not Soon Shaken in Mind "The time is coming when the wicked shall persecute no more, when the mouth of iniquity shall be stopped, when the desire and hope of all believers shall be satisfied, when the Redeemer's work shall be consummated, when the kingdom shall be delivered up to the Father, when those that made a jest of this day shall be fully confuted. Faith sees the certainty of it, and love makes us hold out till the time come about."
The Man of Sin, the Son of Perdition A short, clear exposition of the traditional Puritan view of this topic.
Download all three sermons as a single file: Word (45K) PDF format (115K)
Two Sermons on the 119th Psalm. Warm and practical sermons, both short and to the point.
Sermon 160 "Trouble and anguish have taken hold of me, yet thy commandments are my delights."
Sermon 161 "The righteousness of thy testimonies is everlasting: give me understanding, and I shall live.". Added 24 May 2004.
Satisfaction in God A glimpse into the heart of a great Christian.
The Letters of John Newton An extensive selection of letters from Newton's Cardiphonia. These letters, full of sound pastoral wisdom and practical godliness from the author of "Amazing Grace", are not found in the Banner edition. Don't miss them!
Download the Letters of Newton in a Windows Helpfile. Search by keyword and, if you have Win 95, by word search. (140K, requires Windows 3.1 or higher)
Public Prayer Practical advice for those afflicted with peculiarities in this area. Also in Word PDF.
Views of Heaven a Test of Character An important point in our "seeker friendly" age.
Faith and Sight My all-time favourite quote from The Glory of Christ
Peace and Stupidity Ignorance is bliss, right?

B.M. Palmer

Prayer: Its Place in a Moral Government Why pray when God already knows? A short extract from Palmer's Theology of Prayer which helps answer this perennial question.

The Poor Man's Portions by Robert Hawker (19th C Devotional)

Five new devotions from the 19th C classic by Robert Hawker

Our Beloved Physician

The rest may be found at:

Richard Rogers

Blessings Promised to Those Diligent in Faith by Richard Rogers (PDF Image File) 497K. A sermon from his Commentary on Judges, published in 1615. A warm, gentle, sermon, filled with Gospel truth. A wonderful example of Puritan Old Testament preaching.
Index to Samuel Rutherford
Index to Samuel Rutherford (There is much more than what is listed here.)
The Letters of Samuel Rutherford Thirteen letters from one of the most spiritual writers ever. "When we are dead and gone let the world know that Spurgeon held Rutherford's Letters to be the nearest thing to inspiration which can be found in all the writings of mere men." (CHS) These are in modern language, with explanatory footnotes and Scripture references in full.
Download Rutherford's letters as a Windows HelpFile. Includes footnotes, references and additional information. (68K, requires Windows 3.1 or higher.)
The Weeping Mary at the Sepulcre by Samuel Rutherford. A complete sermon, part of a manuscript found in the 1880's. Andrew Bonar, upon examining it, found the sermons to be genuine and this one the best of the series.Word
Be Thankful for the Grace Within You, a short extract from the sermon above on the true value of Arminianism.
Christian Directions Eight short directions from a great heart.
The Deliverance of the Kirk of God by Samuel Rutherford. A complete sermon which includes remarks on private religious meetings. Word

William Scribner

Praying for Your Children A practical, useful summary by Phil Roberts of a larger article. You may also download this as a tri-fold brochure ready to be reproduced. Just print out the PDF file, photocopy it, and fold twice. U.S. Letter size A4 size. This is one you'll want to give to your friends.
Only Those Prepared Here An extract from The Sincere Convert.
The Sin of Resting in Duties
Extracts from The Sincere Convert which seem to be written just this morning. His church may not have been able to afford a bell, but he knows all about the edifices of contemporary Evangelicalism. (Hmm... He did have a drum...)
Eleven Degrees of Resting in Duties
Why Men Rest in Duties
Signs of Resting in Duties
The Inability of All Duties to Save
The Proper Purpose of Duties (Includes some references to seeking and the "burned over" effect.)
Word PDF Download Resting in Duties as a single document
Containing Motives and Arguments to Persuade Us unto the Love of Christ, and to be Espoused to Him.
Love Christ Because of His Glory
Love Him Because of His Love to You
Consider How Christ Will Love You.
Love the Lord Jesus!
How Shall I know that the Lord Loves Me?
He Loves You with an Unmeasurable Love.
Behold the Happiness of those Espoused to Christ

An Appreciation of Shepard by Alexander Whyte.

The Spiritual Jubilee A sweet sermon on our spiritual victory in Christ. Concludes with a beautiful communion meditation. (84K) Word format PDF format (71K) Palm doc format (19K)
Christ is Best: Or, St. Paul's Strait A complete sermon on the most important topic we never think about. (54K) Word PDF (45K)
A Description of Christ by Richard Sibbes. A sermon on the riches of Christ and his sweetness. One of my all-time favourites, this sermon was usually printed together with the "Bruised Reed," but I think it stands just fine on its own. Abridged and highly recommended. (76K) Word (31K) PDF (65K).
Puritan Sweetness Extracts from "A Description of Christ." A word of encouragement from a great Puritan.
Lesser Lights A short extract from one of his sermons in defence of the "little people."
Under the Blood A Prayer of the Prince of Preachers
Hope Even in Our Hopelessness A short extract from his sermon The Resurrection of Our Lord Jesus Christ, a helpful insight from one well acquainted with the Slough of Despond.
On My Back An article from The Sword and The Trowel written, well, on his back. Name-It-And-Claim-It people should take a Tylenol (paracetamol) tablet before reading. A quaint and interesting letter, "The Editor's Illness," is appended. (23K) Also in Word PDF
Everyday Religion, a sermon divided into sections. Are you looking for a job? Hate your job? Losing your job? Listen to Pastor Spurgeon.
Faith and Work
Faith in the Choice of Occupation
Faith and Help at Work
Faith and Serving God at Work
Faith and the Discomforts of Work
Faith casts the Burden on the Lord
Faith and the Results of Work
Faith and Leaving Work Behind
Download the entire sermon, Everyday Religon, in Word format. PDF (40K)
God's Fatherly Pity "I believe in a God who can feel. As to Baal, and the gods of the heathen they may be passionless and without emotion, or without anything that is akin to feeling. Not so do I find Jehovah to be described." Also in Word PDF (51K)
Two Cures for Lukewarmness A short extract of pungent wisdom.
The Warrant of Faith A needed corrective to the hyper-Calvinism of his day, and ours as well. An important sermon. PDF format (50K)
Salvation Altogether by Faith "Brethren, let the man receive these truths; let them be written in his heart by the Holy Spirit, and they will make him look up." PDF format (38K)
For Whom Did Christ Die? A tremendous sermon on Ephesians 2:8. PDF format (39K)
Salvation All of Grace One of Spurgeon's very best. PDF format (38K)
Do you have a PalmPilot? Check out the Spurgeon Sermon Packs for the PalmPilot.

Robert Traill

Six Sermons on Galatians 2:21 contributed by Jeremy Kerr.
Grace and Justification "The true way to get sound light in the main point of the justification of a sinner before God, is to study it in thy own personal concern; if it be bandied about by men as a notion only, as a point of truth, discoursing wantonly about it, it is all one in God's sight whether men be sound or unsound about it; they are unsound in heart how sound soever they are in head about it." A complete sermon on Gal. 2:21. Contributed by Jeremy Kerr.
Do Not Frustrate the Grace of God
Do Not Seek Righteousness by the Law
Examine Yourselves in the Light of God's Grace
Christ Did Not Die in Vain
Christ's Righteousness the Believer's Comfort "if a man hath any faith at all, it must be built on Christ's death; that you will make no question of: that faith which is not built on a dying Christ, is but a perilous dream: God awaken all from it that are in it!"
Download all six sermons as a single file: Word (64K) PDF format (184K)
Poor in Spirit A short extract from The Beatitudes which describes genuine humility. A Godly Man is a Lover of the Word Do you love the Word? Searching, practical, rich Watson. Recommended for readers new to the Puritans. Word.
Mystic Union between Christ and the Saints A warm, searching sermon, filled with love for Christ, and His love for His people. Word.
Settled in the Faith His preliminary discourse on catechising in general, and our need to be settled in the Reformed faith in particular. Word PDF.
Man's Chief End is to Glorify God. Practical, helpful, encouraging, thoughtful (60K). Word PDF (51K).
How to Get the Most from Reading your Bible by Thomas Watson. A modernised summary of a sermon containing the marrow of the Puritan teaching on Scripture. Short and to the point. Submitted by Matthew Vogan.


Thomas White

Effectual Calling A sermon on Romans 8:28 from the Cripplegate Lectures. I've been unable to find any information about White, but he was quite a preacher. "For good! Yes; but it is unto those that be good. Hands off, wicked and profane wretches! You have no part nor lot in these heavenly consolations. Away, base swine, to your sties, to your muck and mire! These pearls are not for you. Out, ye dogs, to the garbage that lieth upon the dunghill!"(51K) Word format PDF format (53K)
Index to Samuel Willard Most of Willard's sermons are in PDF Image format, see the Index for details.
The Nature of Christ's Resurrection A complete sermon on Christ's Exaltation. "Let the consideration of our interest in his resurrection help us to triumph over death and the grave." Also available in Word format. PDF
Christ Humbled Himself A complete sermon on Christ's birth. Practical, helpful. Also available in Word format. PDF
Is Christ Ascended?"That man is out of reach of harm in this life, who is sure of possessing heaven in the next."
The Decrees of God (21K), A complete sermon from his magnum opus "A Compleat Body of Divinity". This sermon is in modernized language.
---
[Download the Whole Site] [Search]
[Frequently Asked Questions] [Why This Page?]
[Please fill out our Reader Questionaire] [Your comments and suggestions]
[About Word Documents] [PDF Docs]
[PGP Public Key]
http://www.puritansermons.com/
---
Updated 25 January, 1999